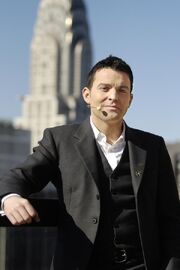 Write the text of your article here!

Ryan KellyVocalist

Ryan comes from The Moy in Co. Tyrone in Northern Ireland. Although he studied accountancy at Queens University, Belfast and is a qualified Chartered Accountant by trade, music and theater have always been Ryan's true passion. He first began singing in public at the age of seven and has won many accolades and awards for his performances, including SCOR 2007, a national Irish Singing Competition, and the BBC's Country Cool competition in 2003. In his solo career to date Ryan has performed alongside Westlife, Girls Aloud and Simply Red at the televised "Children In Need" Charity Concert. He also released his solo debut album In Time in October 2011 to great critical acclaim and was nominated for an Irish Music Award in the same year. Ryan's love of musical theatre has also let him to perform the lead role in the Willie Russell musical "Blood Brothers" and the role of Judas Iscariot in "Jesus Christ Superstar".
Ryan is also a fanatical sports fan and has also played Gaelic football and basketball at national level. One of the highlights of his Celtic Thunder journey so far was the opportunity to stand in the Bank North Garden in Boston and sing the US National Anthem to open a game for his beloved Celtics.
Ryan's love for drama made him the perfect pick for the role of the "rogue" or "Dark Destroyer" in Celtic Thunder Shows. Nothing could have prepared Ryan however for the momentum surrounding Celtic Thunder. "It's great fun being the bad guy," said Ryan. "For me, there's no better role, and they've given me great songs to do it with. Besides, thankfully I'm a much better singer than I was an accountant!"
In Voyage Ryan performs the Garth Brook hit Friends in Low Places, as well as the dramatic Black is the Color, he joins with Emmet and Neil for the a cappella rendition of the Irish classic love song Lagan Love and picks up the tempo and the tin whistle on the ensemble number Galway Girl.