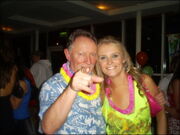 Write the text of your article here!
Surrounded by all this madness I was able to keep my sanity by working in the somewhat gentler pastures of IRISH FOLK MUSIC. I'd always had a passion for Irish music and I suppose my commercial success meant that I could indulge myself by working with some of the very best exponents.

While teenybopper music was good for my bank balance, Irish music was good for my soul!

In the early seventies I produced three ground breaking albums with PLANXTY (comprising LIAM O'FLYNN, DONAL LUNNY, ANDY IRVINE AND CHRISTY MOORE) They were a seminal influence on Irish music and even today there are strong traces of PLANXTY in the music of RIVERDANCE.

As a songwriter I felt I had a chance to write songs of a little more substance working in this idiom, and indeed some of my personal favourites date from this time.

It was during a 3 year period producing the DUBLINERS, for example, that I wrote "SCORN NOT HIS SIMPLICITY". and "THE TOWN I LOVED SO WELL", both introduced to the world by the unique voice of LUKE KELLY.

I also had a wonderful time producing some highly successful records with THE FUREY BROTHERS. "SWEET SIXTEEN", may have been their biggest hit but I have a particular soft spot for their version of my songs "THE OLD MAN" and "STEAL AWAY".

Music Prouder to celtic thunder

04:10

Phil Coulter - Heartland
Ad blocker interference detected!
Wikia is a free-to-use site that makes money from advertising. We have a modified experience for viewers using ad blockers

Wikia is not accessible if you've made further modifications. Remove the custom ad blocker rule(s) and the page will load as expected.