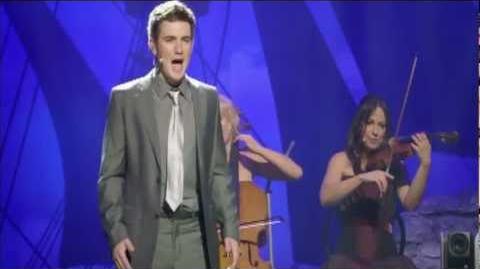 Write the text of your article here![[]]
Emmet Cahill

Vocalist
2010 was a very exciting year for Emmet Cahill; he was awarded The 2010 John McCormack Bursary for the most Promising Young Tenor, was named the most promising young singer at the Royal Irish Academy of Music and was a multiple prizewinner at the National Feis Ceoil singing competition in Ireland.
Emmet is 21 years old and hails from Mullingar in County Westmeath in Ireland. His musical journey began when he was just 5 years old and began learning the piano. By 7 Emmet had begun voice training and he went on to win a music scholarship for high school in Mullingar. Emmet spent the next 5 years intensively studying and playing music. At school he furthered his studies in piano, organ and violin and vocal training, however singing has always been his true love. He continued his education at the prestigious Royal Irish Academy of Music where he received a university degree in Music Performance.
Emmet has been in many stage productions in Dublin and has performed on stage at the Gaiety Theatre, Dublin and as a soloist at the National Concert Hall. He is an avid sports fan and has performed twice at Croke Park Stadium in Dublin, in front of crowds of 90,000. He has also performed for the President of Ireland Mary McAleese and has sung at several international rugby games in Dublin's new Aviva Stadium. Emmet also sings regularly at the Mullingar Cathedral.
Emmet attended auditions for Celtic Thunder in June 2010 and was thrilled to be asked by Sharon and Phil to join the show. Emmet Cahill is the newest member of the Celtic Thunder family and he started his Celtic Thunder journey in Heritage with his rendition of a Phil Coulter song Kindred Spirits which Phil wrote especially for him. In Voyage Emmet also performs solo number "This is the Moment" from the musical Jekyl & Hyde along with the lamenting Irish ballad Isle of Hope Isle of Tears. Emmet picks up the tempo joining the rest of the soloists with his fiddle during their rendition of Galway Girl. He also steps up to join Neil, George, Ryan and Keith in the fast-paced traditional classic song Galway Girl in the same show. {| align="center" border="1" cellpadding="5" cellspacing="5" style="width: 700px" | | | | | |}