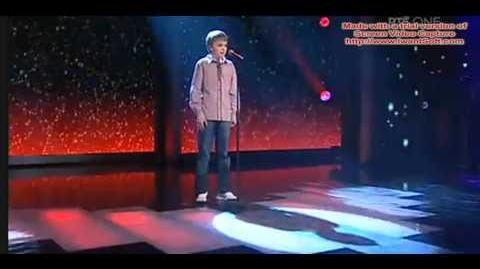 Write the text of your article here! Daniel FurlongVocalist

Daniel Furlong had joined the five main performers as a guest for the Celtic Thunder "Heritage" Production and the Fall 2011 tour. Daniel is 13 years old and hails from the town of Taghmon in County Wexford on the Southeast coast of Ireland. He is a boy soprano and was discovered when he entered a singing competition at the age of seven and won! Although Daniel is barely a teenager, he has been performing and singing in public for over six years. Daniels hometown of Wexford is synonymous with Opera and is host to the internationally acclaimed Opera Festival in October of every year. Indeed Daniel is no stranger to opera and played the role of Edgar in the Wexford Light Opera Society production of Ragtime in 2008. In 2008 and again in 2009, Daniel was also cast in the lead role of Oliver in the musical Oliver with both Oyster Lane and Festival productions. He has also performed solo on two national television stations in Ireland. In 2009 Daniel won an All Ireland Song Contest as a solo singer, competing with artists considerably older than he. In 2011 he won "The All Ireland Talent" Show a nationally televised talent competition and Irelands answer to Americas Got Talent. In light of all of his incredible achievements to date, his home county of Wexford honored Daniel by naming him "Wexford Person of the Year" for 2011.
Daniel describes himself as an outgoing and optimistic, friendly and a fun person. He likes to spend time with his friends and family, and he loves the chance to perform. He is quite competitive and loves playing team sports such as hurling, Gaelic football, soccer and rounders (softball). Music is obviously Daniels passion, he practices with his local choir "The Young Wexford Singers" every week and is also learning to play the guitar and the pigeon box. Daniel came to the attention of Celtic Thunder producer Sharon Browne, when he won the All Ireland Talent Show" and she quickly arranged to meet him. His energy and enthusiasm is infectious and once Sharon had met Daniel and seen him perform. He performs an angelic version of Walking In The Air in the Christmas show and also sings solo in Heritage on Somewhere Over The Rainbow and the Josh Groban hit To Where You Are. Daniel also joins with other members of Celtic Thunder in the Ensembles and performs duets with Keith and Emmet.