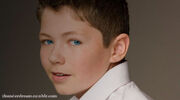 Write the text of your artic[[]]
Damian McGintyVocalist

Damian is 20 years old and comes from Derry in Northern Ireland. He has been singing and performing for over a decade and won his first music competition when he was six. His musical influences are big band and swing classic artists such as Dean Martin and Frank Sinatra. Damian is also a huge Michael Buble fan. Damian's public profile was significantly boosted in 2006 when he won a singing competition and was invited to make appearances at various concerts in Northern Ireland including the Millennium Forum for Derry City football team. The following year a CD he recorded for Charity was passed along to Celtic Thunder Producer Sharon Browne and Music Director Phil Coulter, and they invited him to audition for their new show. Damian's excitement and enthusiasm for performing is infectious, and after seeing him audition he was immediately cast in the role of the teenager or boy wonder. Since then he has completed four coast-to-coast tours of the USA and Canada, and Celtic Thunder has sold over one million CDs and DVDs as well as over 400,000 concert tickets. Damian has also performed in six Celtic Thunder specials for Public Television. His fans have watched with delight as he has progressed from the boy soprano who joined the show at 14 to the deep baritone he is today, essentially growing up before their eyes.
Damian became a huge fan of the television show GLEE when he was on tour with Celtic Thunder and has followed it avidly while touring in the US. Last year he saw an announcement on MySpace for auditions for a guest part in GLEE and decided to give it a shot. He performed 'Lean On Me' as his audition piece, filming the video on his laptop. He told Sharon about it and she then filmed Damian doing 'Lean on Me' again. When they discovered the guest part advertised on MySpace was for a girl dancer and other roles and not a singer, they had a laugh about it and Damian got teased a lot but Sharon sent the tape on anyway to Robert Ulrich.
Robert liked it and although it didn't fit the role advertised he put it aside for future use. Damian was thrilled when Robert Ulrich later contacted him to come to the auditions in Los Angeles for another project he was working called The GLEE PROJECT. Damian went to the auditions in LA last December and was bowled over when he made it to the final 12 contenders, selected out of 40,000 hopefuls. The Glee Project has been an incredible experience for Damian as he has grown and developed as an artist with each episode. Damian keeps pinching himself, in his wildest dreams he never though he would make it onto the cast of The Glee Project, let alone into the final four. Being in the final four is just amazing. "I feel honored, I feel amazed, I just feel incredible" says Damian. "After the start I had in the competition, I really struggled and struggled to fit in. I fought and I battled and my performance in the bottom 3 against Cameron and Emily everyone expected me to go home and I turned it around. It's been an absolute honor".
After winning "The Glee Project", Damian landed a guest star role in Fox's Hit Television Series "Glee" as a foreign exchange student Rory Flanagan from Ireland who arrives as a sophomore at McKinley High in the third season episode "Pot o' Gold" - first broadcast on November 1, 2011. Damian has sung four solo covers on the show, and appeared in many group performances. Damian's Guest Role was initially for seven episodes, but was asked to extend his contract with "Glee" and moves forward into further episodes.