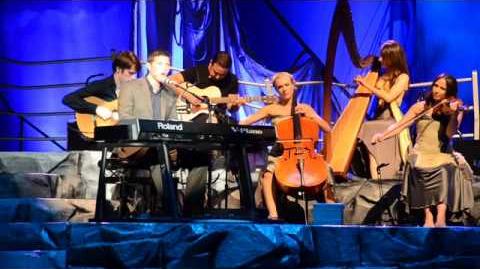 Write the text of your article here![[]]
Colm Keegan Vocalist
Colm Keegan is 23 years old and hails from Dublin in Ireland. As a schoolboy, Colm studied under vocal coach Ken Shellard and won several highly acclaimed awards at the Dublin Feis Ceoil singing competition. During this time Colm was also a lead soloist with the Palestrina Choir under the direction of Ite O'Donovan and a regular performer at Dublin's National Concert Hall. Colm has performed with the Palestrina Choir in Dublin's Pro-Cathedral, New York's St Patrick's Cathedral and St Peter's Basilica in Rome where the Pope was in attendance.
From here Colm went on to join the prestigious Piccolo Lasso Choir and the Habemus Chamber Choir, with whom he recorded several CDs and toured Europe extensively, performing as a lead soloist in Spain, Ireland, and The Czech Republic. Colm also has a great love of musical theater and has played the lead role of Sky Masterson in "Guys and Dolls", and is currently working on a production of Gilbert and Sullivan's "Pirate's Of Penzance".
He continued his music studies in college, attending University College Dublin on a music scholarship, and was conferred with an honors degree in Music and Irish in 2011. While at UCD he became a member of the acclaimed Dublin Lassus Scholars Chorus, all the while continuing with his role in the Habemus Chamber Choir. Colm also joined the choir of Celtic Woman for their "Songs From The Heart" CD and DVD Public Television special and has toured with the production in the US, Europe and Japan. He has also performed with PBS favorites "The Priests" in the O2 Arena in Dublin and alongside Irish tenor Peter Corry at the Helix, Dublin.
Colm is a very keen sportsman and plays rugby, Gaelic football and hurling. He has represented Leinster in the Junior Cup for rugby and has been on a Leinster Final winning team for Gaelic Football. He has also played Gaelic football at college level. In addition to these team sports Colm has also completed several triathlons. He loves travel and new experiences and has travelled widely both with his music career and with the charity Habitat for Humanity, where he has worked building houses with local communities in Ghana and Zambia. Since graduating college in 2011, music has continued to be the main focus in Colm's life. He is currently honing his skills as a songwriter and a performer and has eclectic musical influences, drawing from his Choral, Irish, Pop and Folk backgrounds, all helping him develop his own style. Colm was invited to join Celtic Thunder by producer Sharon Browne in May 2012 and is delighted to join with the five principals to become the newest member of the show. He will be performing with Celtic Thunder for the first time at the upcoming shows at Harrah's Resort and Casino in Atlantic City this June 2012.